Welcome to our Digital Town Hall event. Our guest today is Brian Miller, a local businessman and spokesman for Terre Haute Tomorrow, an organization that recently released a new community plan for the future.
The live event will begin at noon and last for one hour.
Miller will answer questions in writing from the newspaper staff and from the public.
Submit your questions here, or via Twitter or Facebook using the the hashtag #tstownhall.
Editor Max Jones, @tribstarmax on Twitter, is moderator for the event. He is joined by city government reporter Arthur Foulkes and columnist Mark Bennett.
Max Jones moderator
Brian Miller is here with us today. We're prepping him, and we'll be ready to get started in a couple of minutes.

Max Jones moderator
There is a community organization which is definitely focusing on the future in a new initiative launched recently. It's called Terre Haute Tomorrow, and its new efforts are the topic of today's digital town hall. Our guest is Brian Miller, spokesman for the organization. Welcome, Brian!
Brian Miller
@Max Jones Thank you Max. It is a pleasure to be here to talk about Terre Haute Tomorrow. I hope everyone is staying safe and warm today.

Max Jones moderator
This organization you are representing today truly is the product of collaboration and teamwork. Could you take a moment to tell our listeners what exactly Terre Haute Tomorrow is, explain how it came about and, in general terms, what it is trying to accomplish?
Brian Miller
@Max Jones Terre Haute Tomorrow is a collaboration of community leaders both public and private working together to improve our community and to position it to grow. The initiative started in 2000 with a community wide survey and then a Steering Committee was formed to address the areas that our community needed to focus on to improve our situation. That was the first phase and here we are again 14 years later with Phase Two.
Max Jones moderator
How does this process work exactly? THT has been at this a while on this most recent initiative, right?
Brian Miller
@Max Jones Phase Two started by the formation of a new Steering Committee in 2011. It was felt that it was time to revitalize the group and review our situation since it had been over ten years since the first initiative. There were a number of very positive results and it was time to reevaluate. The Steering Committee was formed and Chorus, Inc., an Indianapolis planning company, was commissioned to capture the research and help us with the next planning stage.
Max Jones moderator
What are some the basic elements of this most recent initiative? Its highlights and some of the details that will be the subject of the plan's focus in coming months?
Brian Miller
@Max Jones Over 100 community leaders were surveyed and 84 attended a forum to review the results of the Chorus survey. Out of that forum came four cornerstones for us to work with: Talent, Identity, Quality of Life and Infrastructure. From that the group was able to identity five strategic action team committees: Quality of Life/Community Image, Economic Development, Workforce Readiness, Leadership Development and Infrastructure. These were the areas defined that we will move forward with.
Max Jones moderator
Tribune-Star staffers Arthur Foulkes and Mark Bennett have been poring over the recent plan and are prepared to offer some questions. Arthur is first up.... Go ahead Arthur.
Arthur Foulkes
Can you point to any tangible results Terre Haute Tomorrow has achieved already or expects to achieve this year?

Brian Miller
@Arthur Foulkes Great question Arthur. There have been several underway for sometime. Riverscape is an example of one of the sub-committees that has been very active and they are making great progress. Another is the Tech/Entrepreneurship sub-committee who have developed an innovative networking opportunity with VERGE and its collaborative work space. Trails have been an ongoing action step that continues to get better. Several things are being addressed, such as improving our communications capabilities with fiber optic broadband, our gateways to the city, especially at 3rd Street and I-70. Workforce issues and retraining is also at the forefront.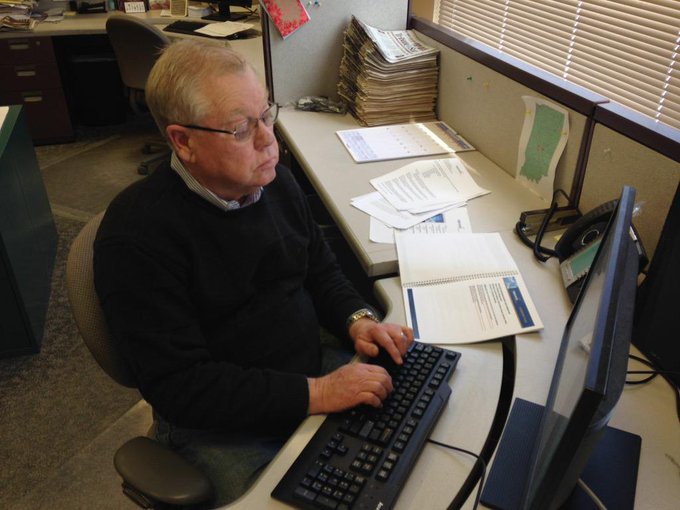 Joe Garza @TribStarJoe
from Twitter19 Feb
#tstownhall Brian Miller, spokesperson for Terre Haute Tomorrow, answers a question during the TS digital town hall. pic.twitter.com/enDFU7bVLSS

Max Jones moderator
Now we have a question from Mark Bennett .....
Mark Bennett
One element of the Community Plan sets a goal to help the school corporation develop a plan to renovate or replace North, South and West Vigo high schools. It also sets a target to help build a public relations plan in support of a referendum necessary to fund such a project. Similar referendums around Indiana, since that process began a few years ago, have gotten mixed results. How can you win public support for that here?
Brian Miller
@Mark Bennett Education is an important area for the positioning and marketing of our community. Almost in all cases the school system is the first place that individuals and companies look at in a community when they are thinking of relocating. We have a great public school system here in our community. However, the facilities are certainly starting to show their age and maintaining them is starting to become challenging. Everyone agrees that we need to address this. So where Terre Haute Tomorrow can help from a public relations side is to help communicate the value that having modern facility that offer our students the best learning environment to our public so that they understand how important it is in positioning ourselves to those looking to relocate here.

Max Jones moderator
Back to Arthur for our next question....

Arthur Foulkes A lot of the pieces of Terre Haute Tomorrow, such as Riverscape and the Verge entrepreneur program already existed. How does bringing them under the THT umbrella help them meet their goals?

Brian Miller
@Arthur Foulkes One of the things we identified in our first initiative and carrying on today, is that we had a number of groups doing or trying to do really important work. However, we also found that many of them did not know what the other one was doing or even that there was another group doing something similar. Since we have limited resources of dollars and people, we wanted to be the catalyst that brought these groups together so that we weren't wasting our efforts with duplication.

Mark Bennett
The Community Plan cites goals to continue enhancement along the Wabash River, particularly on its west bank, including expanding Vigo County parks space there and transforming Dresser as county park land. What obstacles exist for Terre Haute Tomorrow to help deliver on those goals?

Brian Miller
@Mark Bennett One of our greatest assets that has went untapped is the Wabash River. The river has always been a draw when it comes to trade and industry. In the past twenty years we have started to realize that we along with a number of other communities residing on the river really abused this asset. Today, we realize that the river brings us tremendous possibilities for recreation and identity. Cleaning up the residue of over 200 years of abuse and ignorance is something that takes time. The realization of this in the past few years has been incredible. It has helped to bring our Arts Community into thinking of ways to help with our image along with trails and other ideas. The Wabashiki wetlands has expanded and we now have a whole new way of looking at our river. I think the cleanup along the river has been our biggest challenge and I am please that the entire community has gotten involved.

Max Jones moderator
One of the topics that's already been talked about publicly is enhancing the community's image both internally and externally. That's a tough issue. How does Terre Haute Tomorrow propose to attack that problem?
Brian Miller
@Max Jones In 2003, the Indianapolis Star ran an article with the title "Terre Haute is a model of Stagnation." What the Indianapolis Star didn't know was that our Terre Haute Tomorrow initiative had started three years prior. Basically, they didn't tell us anything we didn't already know, But what it did was confirm to us an others that we were trying to motivate that we had to do something to change this downward spiral. A community's image is identified through everything we do. From the way we talk about ourselves, the actions we take and visual image we project. Terre Haute Tomorrow is addressing everything we can to affect and improve our community from a 360 degree perspective. Just one thing isn't going to change that, we have to constantly be improving in everything we do...we have to be A Level Above.

Max Jones moderator
We have a final question from Arthur ....

Arthur Foulkes How can the public follow what Terre Haute Tomorrow is doing (and how can they get involved?)

Max Jones moderator
Brian's answer to that last question should post soon. It seems to be stuck in the system.
Max Jones moderator
We will post a video response from Brian to a question shortly. Meanwhile, our readers should feel free to post their comments and observations about Terre Haute's future. Brian, thank you so much for willingness to participate in this forum.


Brian Miller
@Max Jones Thanks again Max. It was a pleasure and hope I was able to help people understand more about the Terre Haute Tomorrow initiative. I also want to thank the Tribune Star for their support and coverage.

Joe Garza @TribStarJoefrom Twitter19 Feb
#tstownhall Brian Miller, spokesman for T.H. Tomorrow, talks about what he hopes will be understood about the group. tout.com/m/xf988k?ref=t…

Max Jones moderator
We had a technical glitch on Arthur's last question. Here is his question and Brian's answer. .... How can the public follow what Terre Haute Tomorrow is doing and how can they get involved?

Max Jones moderator
Here is Brian's answer to that last question .... The best way is to go to the website, terrehautetomorrow.com. We felt it was necessary to have communication vehicle to help inform those that were interested, but mostly to those that want to get involved. You find the results of the research, the community plan, the strategic action teams and the chairs contact information on the site. We encourage anyone who has an interest to go to the website, find the area that you want to help with and get involved.

From the Terre Haute Tribune-Star
Posted: Thursday, February 19, 2015
View the full story at:
http://www.tribstar.com/news/local_news/tomorrow-group-working-to-aid-city-s-growth-says-miller/article_c8df6098-fbbe-5ba9-99c5-dc84726696c5.html